Other types of batteries
This section of our shop includes batteries that are not part of any other section on our site. Discover the best of these batteries.
It is sometimes difficult to find your way around, as there are so many batteries for so many electronic or electrical devices. Whether it's smartphones or tablets, digital cameras or cameras, hand-held power tools, drones or portable consoles, a quality battery can make a difference. We are pleased to present you on this section of our online store, a selection of spare batteries for your devices. All very qualitative, some are original batteries manufactured by the brand of the device in question, some are batteries of other brands that are compatible with your range of devices. Be sure to check the original numbers or models of your batteries if you choose to buy spare or replacement batteries, to be sure of the compatibility of the batteries.
These are the ones we have chosen for you, most of them are made for popular and sought-after devices. We will regularly update this category of our site to add other spare batteries or batteries that do not fit on other pages of our e-commerce.
I - Smartphone batteries
Smartphones are becoming more and more powerful, and they require high-performance batteries. Whether your phone battery is dead or you want a replacement battery, it may be interesting to order a new one. We present you here the most popular ones.
Note : If you are looking for an external battery for your smartphone, you will find them in our "Power banks" section ;)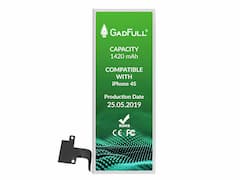 iPhone 4S Battery
$14.99 (86)
Manufactured by GadFull, this Li-Ion battery with a nominal capacity of 1420mAh has been designed to replace the original battery of your iPhone 4S (A1387 / A1431). Compatible with all original APNs (616-0579 / 616-0580 / 616-0581 / 616-0582), this battery is not compatible with iPhone 4. Very reliable, it benefits from several protections (short circuits, overheating, overvoltage, overdischarge...), like the standard battery.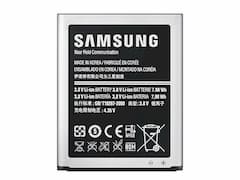 Samsung Galaxy S3 battery
$8.01 (3725)
Need to change batteries on your Samsung Galaxy S3? We offer this model, made for the two Galaxy S3 models (GT-I9300 and GT-I9305). NFC compatible, this Li-Ion battery for your smartphone has a capacity of 2100mAh (or 7.98Wh) and a voltage of 3.8V. Easy to install or remove, it will be a great help to you, either as a replacement for your current battery, or as a handy spare part. Samsung Original Genuine OEM spare battery.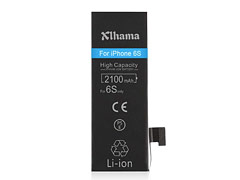 iPhone 6s battery
$22.69 (63)
For your iPhone 6S, model A1633, A1688 or A1700, we offer this replacement Lithium-Ion battery. Be sure to check the exact model of your Apple smartphone before ordering. This spare battery is not compatible with iPhone 6, iPhone 6P or iPhone 6SP. Comes with Complete Tool Kits, Adhesive Strips and Instruction.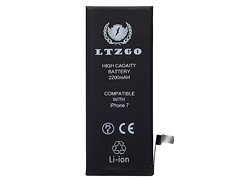 iPhone 7 battery
$19.99 (90)
High capacity battery compatible with iPhone 7 (models A1660, A1778 and A1779). Replacement Lithium battery, delivered with Repair Tools Kits, Adhesive Strips & Instructions. Be sure to check the back of your iPhone before buying this model!
II - Video cam batteries
Whether it is for your camcorder, Action Cam, or your surveillance camera, its autonomy (and therefore its battery) is a crucial point not to be neglected. It might be a shame to miss an event just because you don't have a battery left. Here are some of them.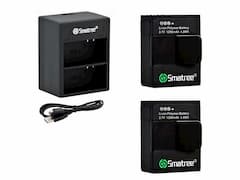 GoPro Hero3 Batteries
$16.99 (290)
Delivered in pairs, these 1290mAh Li-Ion batteries are designed to replace the original GoPro Hero 3 and GoPro Hero 3+ batteries, or to serve as spare batteries. They are sold with a charger (powered by a mini USB plug) capable of simultaneously charging the 2 batteries in question (as well as the original batteries). They will be perfect for far-sighted videographers who never want to break down with their favorite Action Cam.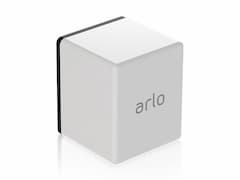 Arlo Pro battery
$41.99 (29)
Proposed by NetGear to power its Arlo Pro camera, the VMA4400-100EUS battery is also compatible with the Arlo Pro 2. Made in China, but of excellent quality, it is a 7.2V Lithium-Ion battery, with a large nominal capacity (2440mAh / 17.5Wh), which will allow your Arlo Pro camera to have an excellent autonomy and not to miss anything it will shoot. Rechargeable without memory effect, it is easy to install in the camera.
III - Camera batteries
There is a very wide range of digital cameras on the market, and therefore a very large number of different batteries to power them, when they do not use standard batteries. We offer these quality batteries for the most popular DSCs.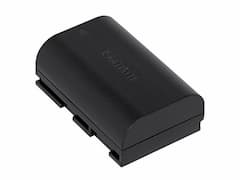 LP-E6N for Canon EOS
$61.00 (648)
The Canon LP-E6N is a powerful Li-Ion battery that powers a large number of digital cameras (DSCs) of the famous Japanese brand. Here is the list of devices compatible with this battery:
Canon EOS 5D Mark II, EOS 70D, EOS 5D Mark III, EOS 60Da, EOS 7D II, EOS 80D, EOS 60D, EOS 7D, EOS 6D, EOS 5D Mark IV, EOS 5DS, EOS R, EOS 6D Mark II, EOS 5DS R and EOS 90D. Caution, not compatible with the EOS 1200D, EOS 800D or EOS 100D. This original Canon battery, with a capacity of 1865mAh and a voltage of 7.2V can be charged on the Canon LC-E6E charger. Can be used as a replacement or spare battery.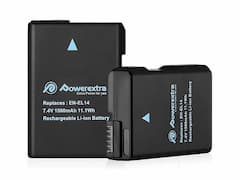 Nikon EN-EL14 batteries
$18.99 (338)
Much cheaper than the original Nikon batteries, while being of excellent quality, Powerextra brand spare batteries are both reliable and compatible with a very large number of cameras of the Japanese brand: Nikon D3100, D3200, D3300, D3300, D3400, D5100, D5200, D5300, D5500 and Nikon Coolpix P7000, P7100, P7700 and P7800.
Over the original capacity, they are 1500mAh, they are protected and guaranteed for a great durability.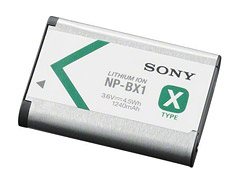 Sony NP-BX1 battery
$29.99 (271)
This quality battery, with a capacity of 1240mAh, is compatible with Sony Cybershot, DSC-RX100, RX100M2, RX1/R, RX1RII, HX60, HX400V, HX90, WX500, HDR-CX405, PJ410 and CX240. its large capacity will allow you to shoot up to 330 photos or 80 minutes of video. Guenuine Sony NP-BX1 Li-Ion rechargeable battery.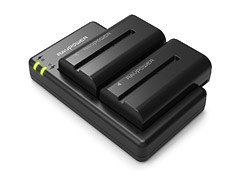 RAVPower NP-F550
$35.99 (250)
This set of 2 batteries + charger, from RAVPower, is compatible with a large number of Sony brand cameras, including NP-F550/NP-F750/NP-F770/NP-F960/NP-F970/NP-F330 / NP-F570 / NX5 / TRV1 / TRV3 and TRV9E /46E / 49E series. Capacity of each spare battery: 2900mAh (20.88Wh).
IV - Console batteries
What could be more frustrating than running out of battery power in the middle of a game on your handheld console? Your original battery is dead? In both cases, choosing a spare battery can be a great idea. Here are some of them selected for you.
Note : For some systems like the Nintendo Switch, the best solution is a powerful external battery, like some on our Power banks page.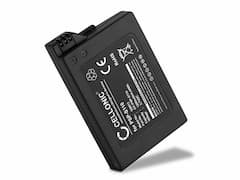 Battery for PSP 3004
$11.49 (39)
Do you want to replace the original battery of your Sony PSP, or would you like to have one or more replacements? You will have the choice between choosing a genuine Sony battery, or choosing a cheaper battery from another manufacturer, compatible with your mobile console. This is what we offer you here, with a 3.6V Lithium-Ion battery from Cellonic, which can be used in Sony PSP Brite (3000 / 3004) and PSP Slim & Lite (2000 / 2004) consoles.

Attention, make sure that the original battery in your portable Playstation (PSP) is the Sony PSP-S110 (1200mAh) model. If so, this spare battery will be compatible with your console, and will be perfect for a very reasonable price.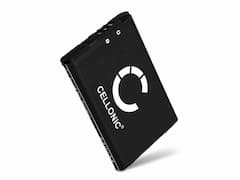 Nintendo 3DS Battery
$17.99 (26)
We present this battery to you to replace the original one on your Nintendo 3DS (or 2DS) handheld system. Whether it's because the other one is dead or just to get a replacement, this model is fully compatible with Nintendo's reference model CTR-003 (check before you buy). With a capacity of 1300mAh and a voltage of 3.6/3.7V, it is a protected and excellent quality Lithium-Ion battery.
V - Laptop & Computer batteries
Laptops are becoming more and more powerful, and their batteries are under great strain. After several months of use, the performance of your laptop's battery begins to decline, and the autonomy of your laptop with... It can therefore sometimes be interesting to replace it.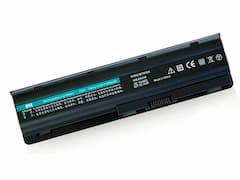 Batterie for HP laptop
$25.99 (277)
This Li-Ion battery with a capacity of 4400mAh is designed to power your HP notebook. With a nominal voltage of 10.8V, and with an operating range from 0°C to 60°C, this quality battery is compatible with the following versions of the HP Envy, HP Pavilion and HP Compaq Presario series:

G32 / G42 / G56 / G62 / G72 / ENVY 17-1000 / 17-1100 / 17-2000 / 17-2100 / Pavilion DM4-1000 / DM4-1100 / DM4-1200 / DM4-1300 / DM4-2000 / DM4-3000 / Pavilion DV3-4000 / DV3-4100 / DV3-4200 / DV4-4000 / DV4-4100 / DV5-2000 / DV6-3000 / DV6-3100 / DV6-3200 / DV6-3300 / DV6-4000 / DV6-6000 / DV6-6000 / DV6-6B00 / DV7-4000 / DV7-4100 / DV7-4300 / DV7-5000 / DV7-6000 / DV7-6100 / G4 / G6 / G7 and Presario CQ32 / CQ42 / CQ43 / CQ56 / CQ57 / CQ62 / CQ72.

Attention to check the compatibility of your Laptop model. This battery is NOT compatible with the HP Pavilion DV4-1000, DV4-2000, DV5-1000, DV6-1000 and DV6-2000. Its dimensions are 204.9mm x 52.25mm, it is protected against overheating, overcurrent, overvoltage, overload and short-circuits, and has 6 highly durable lithium-ion cells.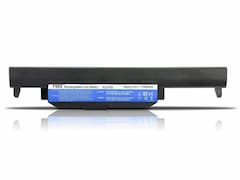 A32-K55 Batterie for Asus
$21.95 (77)
This battery, with a capacity of 5000mAh can be recharged up to 500 cycles. It is designed to replace the battery of your Asus brand laptop PC, of the following models:


Asus A32-K55 / A33-K55 / A41-K55 / A42-K55 / X45Vd / X55 / X55A / X55C / X55U / X55V / X55VD / X75 / X75A / X75V / X75V / Asus A45 / A45D / A45DE / A45DR / A45N / A45V / A45VD / A45VG / A45VM / A45VS / A55 / A55 / A55A / A55D / A55DE / A55DR / A55N / A55V / A75 / A75A / A75D / A75DE / Asus K45 / K45D / K45DE / K45DR / K45N / K45V / K45VD / K45VG / K45VM / K45VS / K55 / K55A / K55D / K75 / K75A / K75D / K75DE / K75V / R400 / R400D / R400DE / R400DR / R400N / R400V / R400V / R400VD / R400VS / R500 / R500A / R500D / R500DE / R700 / R700D / R700DE / R700DE / R700DR / U57 / U57A / U57D / U57N / X45 / X45 / X45A / X45C / X45U and X45V

With a weight of 310g for dimensions of 270mm x 52.8mm x 22.4mm, this spare battery is composed of 6 quality Li-Ion cells. Be sure to check the compatibility of your laptop before making your purchase!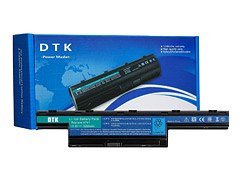 DTK Acer battery
$24.68 (122)
High quality battery, from DTK, with a capacity of 5200mAh. Replacement battery for PC Acer Aspire 4250 / 4333 / 4551 / 4741 / 4743 / 5250 / 5253 / 5336 / 5552 / 5733 / 5741 / 5742 / 5750 / 5755 Series, TravelMate 5735 / 5740 / 5742 Series, Gateway NV50A / NV53A / NV55C / NV59C. Compatible Part Numbers: AS10D31 / AS10D51 / AS10D3E / AS10D41 / AS10D56 / AS10D5E / AS10D61 / AS10D71 / AS10D73 / AS10D75 / AS10D81 / BT.00603.111 / AK.006BT.080.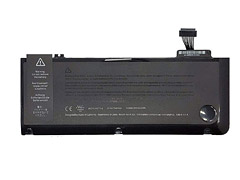 MacBook Pro 13'' battery
$39.99 (300)
This 11V Li-Polymer battery is designed to replace your Apple MacBook Pro 13'' battery (A1322 / A1278), including the MB990LL, MB991LL, MC375LL and MD314LL versions. Be sure to check the version on the complete list provided on the product page before making your purchase.
VI - Portable electrical
Power tools, such as drills, sanders, saws, planers or screwdrivers, regardless of their brand, require a lot of energy, and generally require batteries of high power and capacity. Here are some of them.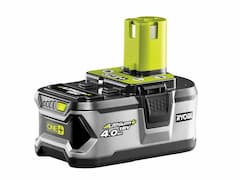 Ryobi 18V One+
$74.68 (153)
With its 4 indicator lights, it will be easy at a glance to know the remaining range of your Ryobi power tool. Powerful with its 18V and 4000mAh capacity, the Ryobi Rb18l13 battery can power any device in the brand's ONE+ range, such as the R18CS circular saw, R18PDBL Brushless percussion drill/driver, R18JS pendulum jigsaw, R18PS triangular sander or any of the 70 other tools in the range. Also available in version 5.0Ah, this Lithium battery will allow you to gain in autonomy, to better carry out your work...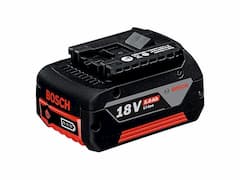 Bosch 5.0Ah battery
$160.91 (176)
We present you the Bosch GBA 18V battery. This 18V Li-Ion battery with a nominal capacity of 5.0Ah is designed to power any power tool in the Bosch Professional range (blue color) of the same voltage category (old or new tools). Particularly robust, the battery (part number 1 600 A00 2U5) is capable of withstanding a 3m drop on concrete. With its Lithium technology, it has no memory effect and no self-discharge.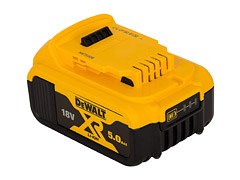 Dewalt DCB184 battery
(283)
The 5Ah Dewalt Model DCB184 battery will power your Dewalt brand portable tools, providing 66% more battery life than a 3.0Ah battery. This 18V XR Li-Ion battery has LEDs to indicate the battery level or charge status. Warning, this battery is not compatible with Dewalt 20V tools, unless you are using an 18V-20V adapter.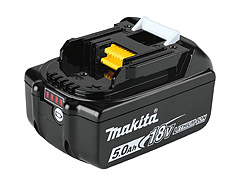 Makita BL1850B battery
$109.26 (229)
The Makita BL1850B battery offers a capacity of 5.0Ah for a voltage of 18V. It can be charged in less than 45 minutes and has a level and charge indicator. It is compatible with LXT Tools and is capable of operating even at very low temperatures (up to -4°F / -20°C).
VII - Related questions
It is sometimes necessary to know the tricks that can be used to assess your state of health. If a removable battery only requires a visual inspection, you only need to insert the code *#*##4636#*##* into the "Phone" application of an Android smartphone or use a dedicated application. On an iOS device, you only have to view the ''Battery'' tab which informs you about its autonomy.
To change the battery of your iPhone 5:
• Turn off your device,
• Loosen the two screws on either side of the charging connector,
• Disconnect the tablecloth from the Home button,
• After unscrewing the corresponding protective plates, also disconnect the covers from the screen, touch screen, camera,
• And finally the battery itself,
• Remove the used battery by heating the back of your iPhone for a few seconds with a hair dryer,
• Install the spare battery,
• Proceed to reassembly.