Power Banks & External Batteries
In this section of our online shop, you will find a selection of the best power banks in 2022.
All smartphones on the market and a large number of electronic devices can be charged (or powered) via a USB port, regardless of its type (USB, USB-C, micro USB...). This universal loading method has proven its worth since its creation, particularly in terms of reliability and convenience. However, the more recent mobile devices, whether laptops, tablets, handheld consoles or Go Pro for example, are, the more powerful and energy consuming they are, which strongly affects their autonomy. This is where, when you've moved away from a wall outlet, the utility of an external battery, also known as Power Bank, makes sense. These mobile batteries, from the most compact to the most powerful, allow you to recharge one or more devices on the go, which is perfect for many everyday uses, or when travelling. Powerbanks exist in many variants, in terms of dimensions, functions or power.
Let us present you our selection of external batteries, among the widest possible choice, in these different variants.
I - Compact power banks
Really practical, thanks to their compact dimensions, small external batteries can be carried everywhere, and recharge your devices despite their smaller capacity. Discover the best pocket power banks.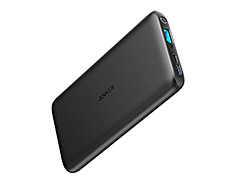 Anker Powercore Lite 10000
$31.99 (210)
In order to make it easier to carry, even in a pocket, Anker has decided to offer an external battery in a different, flatter, and more practical format. With a format similar to a Samsung Galaxy S8 (lower), the PowerCore Lite has two different input ports, allowing it to be charged either with a micro-USB cable or a USB-C cable (not both at the same time), which is particularly convenient.

Our review :
Our team had the opportunity to test several external PowerCore Lite 10000 batteries (and its big sister, the 20000), and to test them several times (shock, humidity, etc.). Very used to the thicker format of the other powerbanks of the famous brand, we were not sure that this new model, with its new format (no longer using several cells in 18650 format, but only one flatter cell), would be as durable and of the same quality as Anker's other external batteries. So we were very pleasantly surprised to find that this is indeed the case. It is both robust and very well designed, very pleasant to the touch with its micro-textured surface, and easy to carry even in a trouser pocket.
The battery withstood our drop tests without flinching, and seems very resistant. We particularly appreciated the practicality of its dual entry port, which allows you to bring only one cable, regardless of your phone, even without an adapter, as it is sometimes necessary to do with other power banks. Too bad though that it is impossible to charge both ports at the same time, and that the USB-C port is not also an output port (a Power Delivery port would have made this battery a real wonder). Another negative point is that this powerbank is not faster, neither in charge nor in time as a battery, indeed, it does not have Power Delivery (PD) or Qualcomm Quick Charge (QC) technology, but standard ports of 2 A in input and 2.4 A in output. This is probably normal given the particularly minimalist format of this drum set, but if one day Anker manages to get a powerbank of this format, but faster, it will really be the best.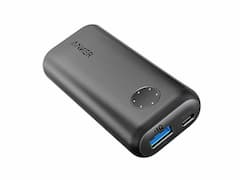 Anker PowerCore II 6700mAh
$23.99 (222)
If weight and size are important criteria for you, but you don't want to compromise in terms of capacity and quality, you should choose this small external Anker battery. Best possible compromise in terms of dimensions, the small PowerCore II is the guarantee of having a good reserve of electrical energy, while being able to be carried everywhere. Its capacity of 6700mAh is sufficient for the majority of daily needs.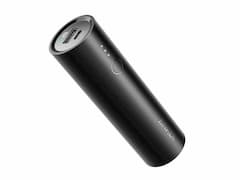 Anker PowerCore 5000mAh
$18.99 (3683)
Particularly small dimensions, weight and price are the characteristics of this small ultra portable Anker battery. The world leader in portable batteries hits hard once again, offering a high quality powerbank packed with technology that will delight the most demanding users, and those looking for a portable power solution that takes up as little space as possible.
This small cylinder will soon stay with you all day ;)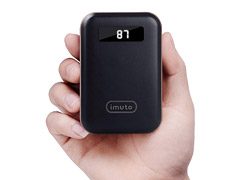 Imuto 10000mAh
$20.99 (623)
Capable of charging an iPhone 6 four times, this external battery by Imuto, with its digital display, has a nominal capacity of 10000mAh and two fast USB ports. Both USB ports detect your device intelligently and deliver the faster charging. 2 USB ports (2.1A & 2.1A) charge 2 devices at the same time.
II - High capacity power banks
Need a lot of power? Here is our selection of the best high capacity external batteries. Heavier and less transportable than other power banks, they are destined for more restricted mobility, but are monsters in terms of capacity.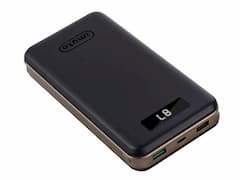 Imuto Taurus X6S Pro
$50.99 (627)
Small monster, the Taurus X6S Pro battery from Imuto, has an LED display that allows you to quickly and accurately know your battery level. With its 3 outputs, including a USB port compatible with Qualcomm QC 3.0 technology (18W max), and two different types of inputs (USB microphone and USB-C), both QC compatible, this external battery is an excellent choice for those who need a lot of mAh, while remaining compact and portable.

Our review:
Our team of testers has not been able to test this power bank as thoroughly as we have been able to do with other mobile batteries, but we were nevertheless impressed by the Taurus X6S Pro during our only test. Having physical characteristics similar to those of a brick, both in terms of weight and dimensions, it seems obvious that the primary use of this powerbank is not to take it with you on a daily basis, your pockets would be very likely to be deformed. On the other hand, when you need a lot of energy on the move, to be able to charge your phone several times, on a trip for example, this battery will prove to be incredibly efficient...
Although very large compared to the average powerbank, it remains extremely compact for its huge capacity of 27000mAh. With an impeccable finish, this battery is particularly robust and solid. The one we tested withstood several falls and blows, as well as a full night of foot in the water (in several centimetres of rainwater), and terribly wet conditions (a week of bivouac in Brittany, in November, with a tarp that did not hold the storm ;D). It fulfilled its role without fail during this week of testing, which was not the case of the other powerbank we had (of another brand whose name we will keep silent), which did not survive...
S Its digital screen is very practical, and allows you to have a precise idea of what remains of the battery. And let me tell you, with almost 100Wh of capacity, we really have the impression that the gauge doesn't drop on this screen...
So why 99.99Wh, you may ask me? Simply because the law imposes different rules for electrical devices of 100Wh or more in air transport. This powerbank therefore has the maximum legal capacity to be able to carry it in a cabin on an aircraft, regardless of the airline in the world. Another advantage, apart from this extraordinary capacity, the Taurus X6S has a very interesting connectivity, namely 4 ports in total. There are 3 outputs, namely a standard USB port (5V⎓2.4A), a fast USB port (5-6V⎓3A, 6-9V⎓2A, 9-12V⎓1.5A) compatible QC 3.0 and a USB-C port (5V⎓3A) that is both input and output compatible Qualcomm QC 3.0. In addition to this input port, it is possible to load this powerbank via a second port (not at the same time), in micro-USB format (5V⎓2A, 9V⎓2A, 12V⎓1.5A), also Quick Charge 3.0 compatible. This is a very practical versatility that allows you to charge with either a USB-C cable or a micro USB cable without the need for an adapter. Charging and powering are therefore done very quickly with a device compatible with QC 3.0 (list of compatible devices available on this page). This Li-Polymer battery has an operating range of 0°C to +35°C according to the manufacturer and offers many protections, including protection against overload or short circuits. The Imuto 27000mAh comes with a micro USB cable and an excellent cover, and is therefore one of the best choices for anyone looking to have maximum capacity at a reasonable price.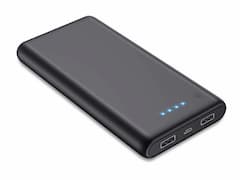 Trswyop 26800mAh Power bank
(272)
With its 26.8Ah capacity, this powerbank with its weird name will satisfy those who are looking for both quality and quantity (in terms of energy), at a very attractive price. This is what the Trswyop external battery offers. Equipped with 2 USB ports with a total power of 15.5W (one 5V=2.1A and one 5V=1A port) and a USB microphone input, this battery has 4 LED indicators indicating the remaining amount of energy. The perfect choice for such a budget!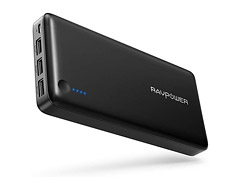 RAVPower 26800mAh
$49.99 (5343)
High capacity external battery, signed RAVPower, with 3 USB ports (total current max 5.5A), and a total capacity of 26800mAh, or 99.16Wh. This capacity just below 100Wh will allow you to bring this power bank into the cabin of any European airline.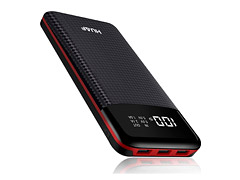 HUAF 24000mAh
(565)
With its original and classy design, this external HUAF brand battery has a very practical LCD display allowing you to obtain information about the remaining battery level, amperage and voltage. This power bank is perfect for an iPhone, with its three USB ports and 24000mAh capacity.
III - Fast power banks
New technologies, such as Power Delivery or Quick Charge 3.0 allow your recent and compatible devices to charge at incredible speeds. Here is our selection of external batteries capable of charging at very high speed.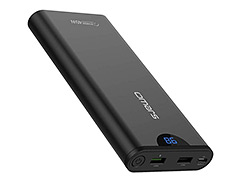 Omars 20000mAh Power Bank
$46.99 (52)
Robust, with its brushed aluminum chassis, and particularly powerful, with its huge capacity of 20000mAh (allowing to charge nearly 5 times an iPhone X or 3 times a Nintendo Switch) and its maximum power of 45 watts, this Omars external battery is an excellent choice for those who need a power beast to power energy hungry devices, such as a portable console or a USB powered laptop.

Our review:
Our testers were able to perform numerous tests on two of these external batteries, in rather extreme situations (particularly in terms of humidity), and were rather impressed by their performance and robustness. Indeed, neither of them has ever failed, even under difficult conditions, and they have demonstrated their reliability and impressive power. with 45W of maximum power, this powerbank is a monster that will be able to power particularly greedy devices, such as some portable consoles (we could test it on a Nintendo Switch) or laptops like the MacBook 13'' - which it is able to fully charge once -, with its impressive capacity of 20Ah (or 72Wh).Delivered with a very practical 2-in-1 cable, this powerbank has 2 USB-A ports (a standard DC port 5V⎓2.4A and a DC fast port 5V⎓3A/9V⎓2A/9V⎓2A/12V⎓1.5A/QC 18W) and 1 In/Out port in USB-C format (5V⎓3A/9V⎓3A/9V⎓3A/12V⎓3A/15V⎓3A/20V⎓2.25A/PD 45W).
In short, an excellent external battery with high power and capacity, at a very reasonable price.
Anker PowerCore Speed
$52.99 (475)
Quick Charge version of the PowerCore 20000mAh, this external battery has a rather compact length format given its huge capacity of 20000mAh, allowing to charge several times any smartphone, and a very reasonable weight for this type of capacity. It has a very efficient fast port, allowing QC 3.0 compatible devices to be loaded optimally. It is of impeccable quality like all Anker products.
IV - Solar power banks
Solar energy, in addition to being ecological and sustainable, can also be economical and empower your devices when you are far from civilization, such as when hiking. Discover our selection of the best mobile solar batteries.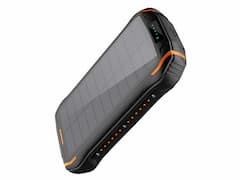 Solar Charger 26800mAh
$79.99 (154)
In order to make it easier to carry, even in a pocket, Anker has decided to offer an external battery in a different, flatter, and more practical format. With a format similar to a Samsung Galaxy S8 (lower), the PowerCore Lite has two different input ports, allowing it to be charged either with a micro-USB cable or a USB-C cable (not both at the same time), which is particularly convenient.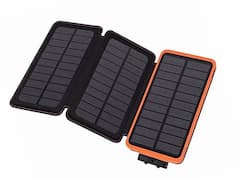 Solar Power Bank 24000mAh
$46.99 (160)
With its foldable solar panels, offering a charging power of up to 6W (depending on the number of panels used) and regulated via an integrated PCB, this ingenious portable battery is perfect for outdoor activities, such as camping or bivouacs. Offering considerable capacity, it also offers an LED flashlight and a carabiner. With a weight of less than 500g, it remains compact if you take into account its capacity and its 2 deployable panels.
V - Cheap power banks
Even with a limited budget, it is possible to find excellent external batteries. Some do not compromise on performance or quality despite their price. We present here the top of the most affordable and accessible power banks.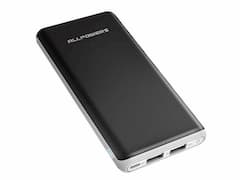 Allpowers 20000mAh
(5)
It is hard to be more compact than this external battery for this capacity (20000Ah). With its highly resistant plastic body, the Allpowers 20000mAh powerbank is both robust and reliable, and is able to detect low amperage devices, which can be very convenient. Easily held in a pocket, this battery is able to charge two devices at the same time thanks to its 2 USB-A ports (total power 12W).

Our review:
Not looking good, with its two-tone plastic, we could have expected a powerbank of poor quality, but in our quest for the ultimate cheap external battery, this Allpowers brand model surprised us and won well against many other more expensive powerbanks. For a price of 20 euros, it was hard to believe for our team of testers, that a battery could combine quality, capacity and strength. As soon as we had it in our hands, we understood that this battery had met the challenge, for at least two of these criteria, namely those concerning its manufacturing quality. The whole thing is very well finished, and for having torture-tested 8 of these brave powerbanks (drops, high humidity, prolonged use over several weeks non-stop, etc.), these batteries are of surprising quality and durability. Sometimes simplicity does the job, and in this case it does, and we haven't been able to get rid of one of these external batteries. Congratulations to Allpowers, who once again offers us a very well finished product.
Bad point on the other hand, for the third point, namely capacity. Indeed, it immediately seemed strange to us that a battery of this format, particularly compact, could have a capacity of 20000mAh. After measurements, we arrive at a capacity of 12600mAh, which seems more coherent considering the dimensions of this device. Another negative point is that this powerbank is rather slow, both to recharge itself and to charge a smartphone. We didn't make any precise measurements, but that's the feeling we had, and we're far from the 4 hours to fully charge the device announced by the manufacturer... We could have been dissatisfied with such a difference between what the manufacturer says and the measurements / observations, but despite this lower capacity and relatively slow charging, this battery remains one of the best choices for this price range, compactness and quality.... Well protected (against short circuits, surges, overvoltages, overvoltages, high temperatures, etc.), this small powerbank is able to detect devices that consume very little energy, such as some Bluetooth headsets for example. This is the only one among more than twenty external batteries (all ranges combined) to have been able to maintain the charge for several weeks of another powerbank with''Always-On'' mode, the Voltaic V44 (this one regularly performing pings capable of''waking up'' the Allpowers battery in a way).
Other positive point that we have observed on this power bank which is, unfortunately, too rare on the others: its ability to charge while it is charging. Indeed, when you connect a device to the Allpowers, it will self-charge, while loading the device(s) that are connected to it. This allows with a single wall socket to potentially charge 3 devices, during the night for example (the charge is obviously very slow). According to our measurements, the priority is to self-charge (about 7W) while the charging of the devices is very slow (from 0.1 to 1W), but has the advantage of being done, unlike the majority of powerbanks who can only do one or the other (charge itself or load the device plugged in). Another good point for this small battery, which certainly does not keep its promises in terms of capacity, but which keeps many others.
Conclusion, for us, difficult to do better for this price.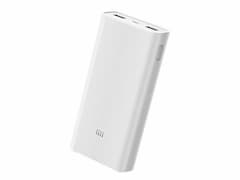 Xiaomi 2C 20000mAh
$35.99 (2640)
Xiaomi, the world's 4th largest smartphone manufacturer, hits hard with its 20Ah capacity 2C external battery. Indeed, it is difficult to offer a powerbank with such a capacity, such a high quality of manufacture, fast (because it is Qualcomm QC3.0 compatible) for less than 30 euros. Yet this is what this sleek, white, matte finish battery offers, with two ports that can charge two devices simultaneously for a maximum power of 18V.
Compatible with most USB devices, the Mi 2C has an intelligent charging mode and is capable of charging low-current devices (trickle mode), like the Smartwatch Mi Band which consumes only 0.025A ! Capable of charging an iPhone 7 or 2.5 times an iPad Mini4, this power bank is of exemplary quality, which explains the users' enthusiasm for this device.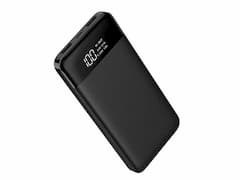 Charmast Slim 10000mAh
$22.99 (146)
Are you looking for the most versatile external battery possible, while keeping a very tight budget? Look no further, it is the 10000mAh battery from Charmast that you are looking for. Very compact and lightweight, this power bank has a capacity of 10400mAh, i.e. enough to charge a Galaxy A10 three times for example. The connectivity of this battery is its main strength, with 2 different In ports (1 in micro USB format, the other in USB-C format) and 3 Out ports, including a 15W C type port. Very fast therefore, this powerbank also has a screen allowing you to easily and precisely know your battery level. So many advantages that it is surprising to see on a device of this price. So don't hesitate!
VI - Wireless power banks
Induction charging technology (also known as IQ or Wireless charging) allows compatible smartphones to be charged wirelessly by simply placing them on the charger. In this section, you will find mobile batteries capable of induction charging.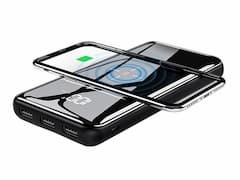 Gnceei IQ 25000mAh
$36.99 (370)
The ability to charge smartphones compatible with induction technology (also called''Wireless Charging'') is a real advance, especially in terms of simplicity. This powerbank allows you to charge your phone wirelessly, while being able to charge up to 3 other devices simultaneously, via its 3 USB ports. An extraordinary 25000mAh battery and rather compact dimensions for this capacity make it an essential model.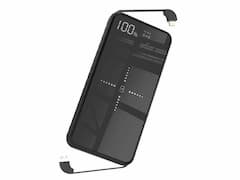 Wireless Power Bank 10000mah
$20.64 (59)
Also available in white, this powerbank from Ponsinc is able, with a relatively compact format (about the size of a smartphone), to charge 4 devices simultaneously. On the one hand, it can recharge your IQ (induction charging) compatible device wirelessly, which is very convenient, but it has a standard USB port, and two integrated cables that can be housed in the powerbank, one in Lightning format (for iPhones) and the other in micro USB format (for Android phones and other standard devices). It is equipped with 3 Input ports (Lightning, micro USB and type-C) and an LED display indicating the remaining amount of battery. In short, a very versatile device with an interesting capacity (10000mAh) for a very compact and practical format.
VII - Related questions
How to choose an external battery? First take stock of your needs. Does the powerbank have to be compact to fit in your pocket or is its capacity more important than its size? How many times do you want to recharge your smartphone (look for its capacity in mAh)? Do you need a quick one? Finally, do it according to your budget and with our help you will know which external battery to choose.
All external batteries are charged via a simple USB port. Whether powered via a micro-USB cable or a USB-C cable (less common), any powerbank can be charged on the same wall charger as your smartphone, or on a device with a USB port, your PC for example. It is this simplicity that explains the great success of this type of battery.
External batteries are most often made up of one or more cells (often 18650 batteries) connected in parallel, with a sophisticated electronic circuit (managing charge and discharge, with integrated protective circuits), all enclosed in a protective shell. Their characteristics generally depend on the number of cells and the electronic circuit.