Car accessories
In this section of our shop, you will find a selection of devices and accessories related to batteries and electricity in your car.
We spend a lot of time in our vehicle and on the road, and the proper functioning of our car or motorcycle depends in part on its battery. When it weakens, it can be very useful to recharge or boost it. To do this, there are a number of devices that can be very useful, to test, boost or recharge it... Similarly, given the time spent in the passenger compartment of our car, camper or truck, it can be very interesting to be able to use a number of peripherals and electronic devices (GPS, smartphone, TomTom, 12V cooler, lamp, DVD or mp3 player, etc.). As the cigarette lighter or USB plugs in your vehicle are not always numerous enough or of the right size, it may be worthwhile, for a minimal investment, to buy a voltage converter or a power strip.
This part of our site is dedicated to cars, and to all vehicles on the road more generally, and offers you our selection of the best devices and accessories related to batteries and car power supply.
I - Jump Starters / Battery boosters
Who has never struggled to start a car on a winter morning because the battery is too low? The simplest solution, rather than asking for help from another motorist, is to choose a Jump Starter or battery booster. Discover the best that is currently being done in this area.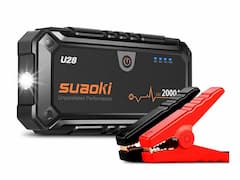 Suaoki U28-2000A
$105.99 (59)
Not only is the Suaoki U28 one of the best Jump Starters on the market, capable of helping you restart an engine, as if you had connected crocodile clips to another vehicle, in a portable way. Very compact, it is however ultra powerful, with its efficiency of 2000Amp at peak, and its ability to boost an engine up to 10 litres for a petrol engine, or up to 8 litres for a diesel vehicle! But in addition, this device can be used as a backup powerbank with its 16000mAh and 4 outputs (2 USB ports 5V⎓2.4A, its port 15V⎓1A and its DC port 12V⎓10A ! It can also be used as a flashlight, making it one of the best allies to have in your vehicle at all times.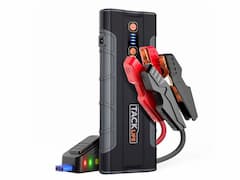 Tacklife T8 Max
$99.97 (222)
Very impressive in terms of size, this Jump Starter by Tacklife is very powerful, and can help boost your battery to get it started. Whatever its displacement in gasoline, or up to 6.5 liters for a diesel engine, this battery booster can be very useful for your car (even large SUVs), boat, quad, motorcycle, etc.. With 1000 A at peak, and a capacity of 20 Ah, you will even be able to do it about 40 times. In addition, this Jump Starter is also an external backup battery, with its 3 USB ports, including a Quick Charge 3.0 compatible (up to 18W). To complete the whole, it has an LED lamp with strobe mode and red light, to help in reporting, for example in the event of a failure. Charges in about 5 hours This device, with several safety devices and all-metal and protected crocodile clips, is a must to always have in your vehicle (for you, or to help others)!
II - Car chargers
As USB charging devices are legion, starting with smartphones, it is important to be able to charge them regularly. Apart from the powerbanks solution, in the car, the most convenient way is to use the cigarette lighter socket. Here is our selection of car chargers.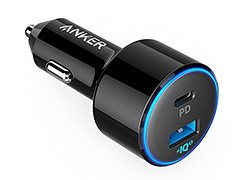 Anker PowerDrive Speed+ Duo
$23.99 (150)
Very qualitative like all Anker devices, and with a modern and classy design (bright blue circle), the PowerDrive Speed+ Duo is the best and fastest in terms of car chargers on a cigarette lighter socket. Capable of outputting up to 30 W via its USB type C socket, Power Delivery compatible, and with its second USB-A port 5V⎓2.4A (for a total of 42 W simultaneously), this charger is capable of charging a MacBook 2017 in only 2.5 hours. The best!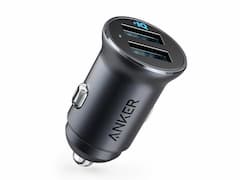 Anker PowerDrive 2 Alloy
$9.99 (144)
Its extremely small dimensions allow it to be perfectly integrated into the console of your cigarette lighter without exceeding it, discover Anker's PowerDrive 2 Alloy. With its classy metallic finish, this small car charger will be discreet until you need it. With its two standard USB ports, with a total power of 24 W, it is universally compatible with USB-powered devices and smartphones on the market.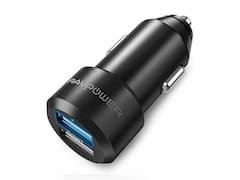 RAVPower car charger 24W
$7.99 (2643)
Need a car charger on a cigarette lighter that is practical, cheap, compact and powerful? Discover the RP-VC006 charger from RAVPower, with its two USB ports of 2.4 A each (totaling 24 W of power). With its scratch-resistant aluminum alloy coating, and its small size, it is crunchy. Intelligent, secure and offered at an unbeatable price for this level of quality, it is easy to understand why this charger is one of the most popular in the world.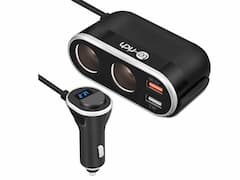 Te-Rich 96W Car Charger
$15.99 (169)
Being able to charge your smartphone in your car is something that can be very practical, but sometimes you also need to avoid hogging the 12V cigarette lighter socket. The TR22A was designed to solve this problem, and it is both an extension cord, with two cigarette lighter ports and two USB ports, one of which is very fast, Qualcomm QC3.0 compatible, which will allow you to charge your Smartphone compatible with this technology at full speed (15 W). With a switch, a small blue LED display, and a double-sided tape to attach it where you want, this charger, and its many protections, will allow you to charge both your smartphone and power your GPS, music player or 12V cooler via the cigarette lighter socket.
Practical and well designed automotive equipment...
III - Maintainers / Battery chargers
Jump Starters start your engine by boosting your battery, but it is also sometimes necessary to fully charge them via a mains socket. Here is our choice for the best car/motorcycle battery chargers.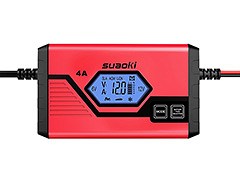 Suaoki Battery Charger
$35.99 (276)
Useful for both motorists and motorcyclists, the Suaoki ICS4 charger is able to automatically detect the voltage (6 V or 12 V) of the battery to which it is connected, allowing it to charge both a motorcycle/quad battery and a car battery. With its 4.0 A, it is effective on most types of batteries, even AGMs or LiFePO4 12 V... Also available in 7A version.
Reliable and compact, it is an excellent product.

Our review:
For once, it was not one of our testers who had the opportunity to test this article, but his wife. Having problems with the battery being discharged for no reason, she chose this small charger from the Suaoki brand in 4.0 amp version. Her feedback is excellent, and she especially appreciated its compactness (it can stay in the car, without taking up too much space), its simplicity (just plug it in, choose the mode - which is kept in memory, even after being disconnected) and its efficiency (we plug it in, we come back several minutes or hours later, and the battery is fully charged).
Its LED display is useful to see the charge level and the selected battery type. Its intelligent circuitry allows a pre-programmed charge in 8 steps, and the ICS4 charger can thus serve as a charge maintainer (by leaving it connected to your battery, it will ensure that it is always optimally charged).
Special mention for its crocodile clips which are particularly well designed compared to those of some competing products, because they are thin and with a very wide opening, which allows them to be easily clipped onto any car or motorcycle battery.Excellent small device therefore, which we strongly recommend for all those who would like to charge or maintain their car or motorcycle battery, in a regular and efficient way, for a very affordable budget.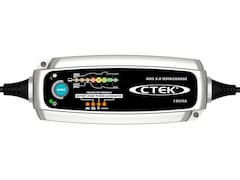 CTEK MXS 5.0
$72.79 (141)
Developed in Sweden, this 5A battery charger is very popular, and for good reason, it is an excellent product, capable of charging almost all 12V batteries. Protected against reverse polarity, it is reliable and easy to use. Simply connect it to the mains, choose its mode (motorcycle, car, AGM) and then connect it to the battery, and it will take care of its charge completely independently. It is even capable of recharging a completely discharged battery.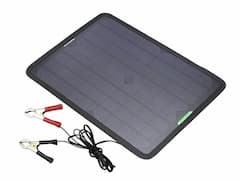 Solar trickle Charger
$31.99 (32)
The Allpowers brand offers here a solar panel capable of maintaining or charging a car or motorcycle battery. With its low power (0.55 A), it is rather designed to be placed on its dashboard or fixed to the windscreen with suction cups (supplied), and plugged directly into the cigarette lighter socket to keep your battery charged. But it can also charge (slowly) a battery. Its charging voltage is 18-23 VDC, and under ideal sunlight conditions, its monocrystalline silicon cells can produce 10W of power.

Our review:
We did not have the opportunity to do extensive tests on this Allpowers photovoltaic panel, but long enough to see that the panel seems to be quite efficient and with a good yield. It seems robust, of excellent construction, and very compact. It is built with a blocking diode (anti-reverse) to prevent reverse discharge, but we are not sure that it is very effective, so we recommend disconnecting this device at night or when there is no sun. This item comes with alligator clips and a cigarette lighter plug that can be plugged directly into the socket instead of having to open the hood of your car, which is quite convenient.
IV - Inverters / Converters
It may sometimes be useful to connect a device that normally operates on the mains, to the cigarette lighter socket of your car. To do this, it is necessary to use a voltage converter or inverter. Here you will find our selection of the best converters.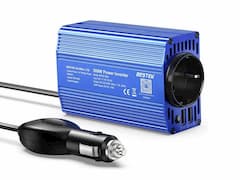 300W Power Inverter
$21.66 (5887)
Compact and very robust thanks to its metal housing, this Bestek device is a high-quality inverter, capable of switching from a voltage of 12V to a voltage of 220-240V (or 110V for US version), which allows you to connect your devices, up to a power of 300W (400W at peak) on the cigarette lighter socket of your vehicle. Of excellent quality, this converter is protected by a 40 amp fuse and also has 2 USB 5V-2.1A ports, which can be used simultaneously.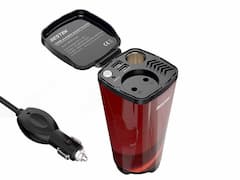 Bestek 200W Inverter
$27.99 (791)
With its original format, this small 12V converter can be easily stored in your cup holder. With two USB-A ports (22.5W max using the two USB sockets), a switch and an operating LED, this very compact inverter allows you to connect devices with a power of 200W (250W max / 500W peak). It is ventilated and fully electronically protected, making it an excellent device to have in your car at all times.
V - Battery testers
Need to know a little more about the health of your car battery (or your solar kit)? An effective battery tester will give you interesting information about the battery, such as its level or health. Here is our selection of testers: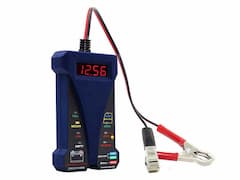 Motopower Battery Tester
$15.99 (468)
This item is a 12V digital battery tester, and charge system analyzer, offered by Motopower manufacturer. Equipped with a liquid crystal display, allowing you to obtain the information you are interested in regarding your 6V and 12V car battery (voltage accepted by the voltmeter: from 4V to 20V). Protected against polarity reversals and overvoltages, this tester will tell you the level of your battery and whether it is dead or not. Very practical!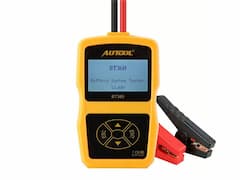 Autool BT360
$38.99 (16)
This Autool tester and analyzer is a powerful tool for testing almost all batteries (Pb, AGM, Gel) with a test range from 100 to 2400A. Very compact, it remains extremely complete, and allows you to obtain an impressive amount of information about your battery, such as its level of course, but also its state of health (to be changed, OK...), its voltage, its amperage, etc. You follow the instructions on the screen (available in English, French, Russian, Spanish & German), and after a series of questions, you get the complete analysis, which can be particularly useful. Excellent small device, very powerful and of good quality.
VI - Related questions
Your car battery is charged every time you drive, thanks to your alternator. If this is not enough, the easiest way is to connect the battery of your vehicle to the mains supply, thanks to a battery charger, as we propose a selection on this page, which can also hold your battery, to avoid, especially in winter, that your battery gets too discharged.
It is not always easy to know the state of health of your vehicle's battery. To solve this problem, vehicle battery testers have been invented, which allow you to know in a few seconds whether or not your battery needs to be changed, as well as its level and other useful information.
Every driver knows the method of connecting alligator clips to the battery of another car to help you start your vehicle. Effective, this method can be painful you are in the middle of nowhere. There is a device called Jump Starter (or Battery Booster), a kind of super powerful battery, capable of giving your battery enough boost to start your engine.