Solar Panels & Kits
Discover on this part of our shop, our top of the best photovoltaic panels and other solar equipment in 2022.
Whether camping, on a sailboat, for your home, in a camper van, or hiking away from civilization, when you need to power your devices, solar energy can be one of the best solutions. Practical, reliable, environmentally friendly and inexpensive, solar energy can be an excellent choice. The current offer in terms of solar and photovoltaic panels being enormous, we have decided to offer you our selection of the best solar equipment, after having tested several dozen of them, whether flexible panels, rigid or foldable panels, 12V or 24V batteries for solar kits, or other related equipment.
Discover the current top of solar equipment and photovoltaic panels:
I - Portable solar panels
To hang on your backpack or to put where you want, one of the most practical ways to enjoy solar energy is the portable solar panel, which is foldable, lightweight and takes up very little space. Discover our selection of nomadic photovoltaic panels.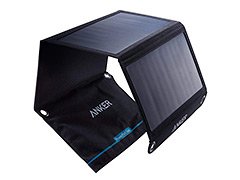 Anker PowerPort Solar 21W
$139.99 (1393)
It is hard to be lighter for this power, with a weight of 400g for a solar power of 21 watts. The PowerPort Solar from Anker is one of the best mobile photovoltaic panels on the market. Combining the reliability common to all the brand's devices, and power, it is an excellent choice for those who want to go hiking or save money. Very strong with its reinforced PET panels, while remaining very light and easily transportable (only 28mm when folded), and with its energy efficiency of 21.5%-23.5%, this portable panel can easily be attached to a backpack thanks to its eyelets. The best in terms of portable solar panels, with the 15W version also available.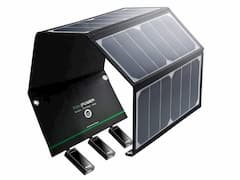 RAVPower Solar 24W
$69.99 (1531)
Built with a durable and splash-proof outer shell, this portable solar panel by RAVPower is compact, durable and powerful. Its 3 foldable panels, with an excellent efficiency of up to 23.5% and its iSmart 2.0 technology, this panel has 3 USB outputs, so you can charge several devices at the same time, make it a very practical ally for charging your devices. Also available in 16W, 21W and 28W.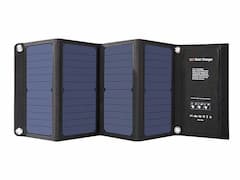 Suaoki Solar Panel 28W
$72.99 (12)
There is a wide choice of portable or portable solar panels. In addition to the differences in power and efficiency, and the number of foldable panels that compose it, many are very similar. Suaoki's is distinguished from the others by two things... First of all, it is one of the few to offer a USB port compatible with Qualcomm Quick Charge 3.0 technology, allowing fast charging of compatible devices. On the other hand, it is delivered with two supports allowing it to be placed in the ideal angle, thanks to a viewfinder to be aligned with the sun for optimal performance. All this with the quality that characterizes the brand's products!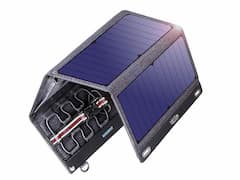 VITCOCO Panel 29W
$69.99 (51)
Powerful and compact, this portable photovoltaic panel from Vitcoco has 4 high efficiency monocrystalline panels for an optimal power of 29W. The main strength of this device is the fact that it has, in addition to its two USB outputs (one of 2.4A max, and the other of 1.2A), a 12V DC output, which allows it to power a large number of compatible devices (LED strips, power stations...) and a digital display.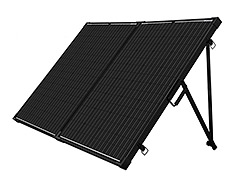 Renogy Solar Suitcase
$424.13 (112)
When a small folding solar panel is not enough in terms of power, and when a fixed panel is not practical because it is difficult to move, one of the only possible solutions is the solar case. Proposed by Renogy, this case is made of two 100W panels, fixed to a folding steel frame (allowing to choose the desired angle), pre-wired with a solar regulator (Renogy Voyager 20Amp model) using MC4 cables... It can therefore be used directly with your devices compatible with MC4 connectors. Ultra robust, very reliable and well thought out, this dual high-performance photovoltaic panel is delivered in a semi-rigid carrying case, protecting it when folded and allowing a single person to move it easily.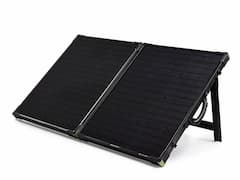 Boulder 100 Briefcase
$299.95 (115)
This panel is intended to charge the devices of the Goal Zero Yeti range, and has a dedicated connector (port 8mm / 14-22V up to 7A), if you want to use it with other devices, you will need an adapter !
The Goal Zero Boulder 100 Briefcase is a 100W solar suitcase (two 50W panels) with a very intelligent and robust design (tempered glass, aluminium frame...) that is extremely reliable and durable. With its reinforced cover, it can be brought anywhere to power your Yeti power station. Also available in a single panel version, also quite practical, the Boulder 50 (50W).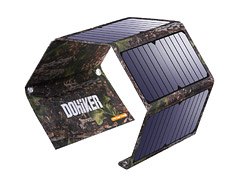 Dohiker 27W Panel
(11)
This camouflaged and foldable Dohiker solar panel, with a total power of 27W, has 3 USB ports, including a QC 3.0 compatible fast port. Reliable and efficient, this photovoltaic charger consists of 5 panels, including 4 monocrystalline high conversion solar panels. It is capable of charging 3 devices simultaneously (4V3.6A/5V3.4A/9V2.5A/12V2A Max). Dimensions unfolded: 34.1x11.4 inch, folded: 6.5x11.4 inch.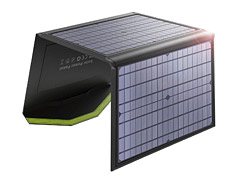 Allpowers 60W
$139.99 (2)
With an integrated solar converter, 2 USB ports and a 12V / 18V output, this Allpowers 60W folding panel can power a large number of devices. Very powerful and versatile, this photovoltaic charger is robust and allows you to charge devices requiring 12 volts or 18 volts, thanks in particular to a cable with crocodile clips and its solar energy converter.
II - Fixed solar panels
Unlike the photovoltaic panels presented in the previous category, the solar panels presented below are not intended to be moved, but to be fixed on the roof of a house or to be permanently installed on an isolated site.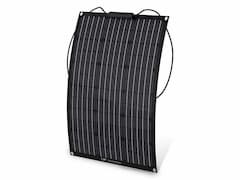 Allpowers flexible 50W
$109.99 (8)
This flexible solar panel is the missing link between this subcategory and the previous one. Indeed, it weighs just over a kilogram, which makes it easily transportable or movable, despite its imposing dimensions. However, it is mainly designed for fixed use, such as mounting on the roof of a motor home, caravan or sailboat deck, but possibly also on the roof of a house or cabin. Indeed, Allpowers 50W panel is particularly resistant and durable. Capable of resisting air (2400 pascals), snow (5400 pascals) or hail (impact of a projectile with a diameter of 25mm to 23m/s (83km/h), it is protected by ETFE lamination, making it self-cleaning, tear, fire or corrosion resistant. In addition, its surface is granulated and deliberately irregular, which makes it possible to better capture sunlight from any angle or indirect reflections. 100% recyclable and with a life span of 25 years, this coating makes this bendable panel particularly resistant and efficient... With its dual MC4 connector, this semi-rigid panel can be connected in parallel or in series, depending on whether you want more power or more voltage for your solar kit. Its operating voltage is 18V, its working current 2.7A. It is necessary to use a current regulator to connect this panel to a battery.
Exists also in 100W version.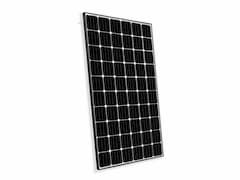 Peimar Solar 300W
(3)
Very qualitative and rather affordable for this power, the Peimar fixed photovoltaic panel will be a very good choice to be fixed on your roof or your motorhome. With its optimal power of 300W and excellent efficiency, this panel is easy to fix thanks to its perforated frame... With its voltage (Vmp) of 32V and its Isc of 9.98A, it will require a regulator before connecting your batteries. Very solid, durable and reliable, this panel will not disappoint you!
III - Solar kit batteries
If the quality of your photovoltaic panels is essential to have an efficient solar kit, you should not underestimate the importance of the batteries you will choose. This is where your energy will be stored until you need it. Here is our selection of batteries for solar kits.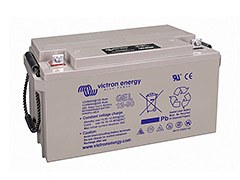 Victron Battery 90Ah
(4)
The battery is at the heart of the system in your solar kit. This is where the energy recovered from your solar panels (or other energy sources - wind turbines, generators, etc.) is stored, and it is the battery (or batteries) that will release the necessary energy when you need it. As such, it is important that it is extremely durable and keeps this energy as long as possible.
This battery from Victron Energy is of the gel/AGM type, which means that it is waterproof (VRLA technology, for Valve Regulated Lead Acid, the guarantee) and will have a very long life, even after large or prolonged discharges. Available in several capacities, we chose this one, from 90Ah, in 12V, because it seemed to us one of the best possible compromises for the majority of the kits, neither too big (therefore heavy and imposing), nor too small, in case of important needs, it is enough to couple several of them. By its type, it will be both highly resistant to shock and vibration, requires no maintenance and can be stored in a low-ventilation area, making it very practical for an isolated site kit for example. The brand's reputation does not fail with this battery, which is one of the best on the market!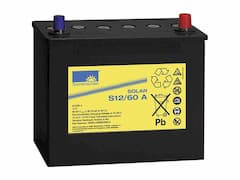 Sonnenschein S12 Battery
(2)
Sonnenschein is one of the leading brands in sealed lead gel electrolyte batteries, and for good reason, it was Dr. Sonnenschein who invented the Gel battery. With this model, it offers a Gel/AGM battery with a capacity of 60A and a voltage of 12 volts, specially designed for the storage of solar and wind energy. With its very low self-discharge rate (around 2.5% per month (at 20°C), its technology guaranteeing its lifetime tightness and its manufacture in Germany, guaranteeing quality and durability, this battery is perfect for low power solar use.
IV - Charge controllers
A charge controller is used to ensure and regulate the charging of batteries, as electricity from solar panels (or wind turbines) is not regulated. Of several types (PWM or MPPT), they are essential for the proper functioning of a solar kit. Let us introduce you to several of them.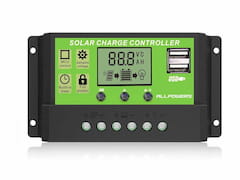 Solar Controller 20A
$13.99 (570)
Important to regulate the charge of your batteries and protect them for optimal use and life, the solar controller is an essential element of your solar kit, and this can be the case even for a very tight budget as shown by the very good 20A Allpowers controller, with its very many functions and safety features, its two USB ports, its low self-consumption, etc.
A great choice, especially for this price !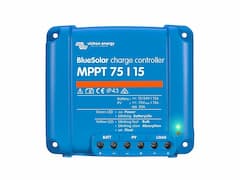 Victron MPPT 75/15
$118.15 (75)
Also available in Bluetooth version, the BlueSolar 75/15 from Victron Energy is a MPPT solar controller (MPPT is for Maximum power point tracker). It will add coordination to the system formed with solar cells and batteries, which are not, by nature, ''intelligent''. This charge controller allows an ultra fast location of the maximum power point, which allows, especially in case of cloudy skies, to improve the collection of electrical energy, up to 30% better than a PWM controller. With its BatteryLife system, battery management is intelligent and optimal. On the technical side, its nominal PV 12V power is 145W (290W at 24V), its nominal charging current is 10A, and its self-consumption is 20mA at 12V (10mA at 24V). An excellent choice therefore, if you prefer a MPPT type controller.
V - MC4 cables and connectors
You don't need to have excellent solar panels, or the best MPPT controller of the moment, if you don't opt for cables with reliable MC4 connectors, well sized and really waterproof. Here are the products corresponding to these criteria that we have chosen.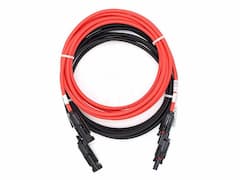 Cables with MC4 connectors
$24.95 (4)
With its 4mm² cross section, each of these two cables is made for a nominal current of 25 to 32A. With their double insulation, these extension cables are particularly resistant. They are resistant to UV and corrosion in harsh environments, as well as to large temperature differences (ranging from -40°C to +90°C). Each 4.9m long, these two cables (one red, the other black) end in female and male MC4 connectors, certified IP65, so waterproof and dustproof.
All this makes it one of the best choices possible.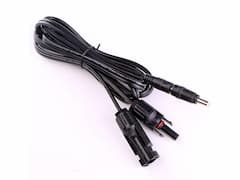 Allpowers 16AWG
$8.99 (3)
Both solid and durable, this Allpowers brand cable has MC4 male and female connectors on one side and a 5.5*2.1mm plug on the other. With two additional adapters, which also allow you to connect devices compatible with the 5.5*2.5mm and 3.5*1.35mm formats, this allows you to connect your compatible equipment directly (they must be protected), such as some energy stations with an integrated MPPT controller, to solar panels with MC4 output. This is the case, for example, of the Suaoki S270 (presented on our Compact Power Stations page) which is connected using the 3.5mm x 1.35mm adapter, or the Allpowers 372Wh which can be connected via the 5.5mm socket. Particularly practical therefore to allow your power station to charge via a photovoltaic panel.
VI - Solar kits
If instead of choosing each of the components of a solar kit, you decided to opt for more simplicity and to be sure of the compatibility between each component, for a ready-made solar kit? Here is our selection of the best solar kits of the moment: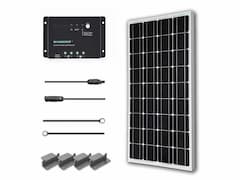 Renogy 100W Solar Kit
$160.76 (1015)
This kit consists of a 100W 12V monocrystalline photovoltaic panel, a Renogy Wanderer Li 30A PWM solar controller, 2 cables with MC4 male/female connectors each 2.5m long, 2 battery eyelet cables and Z-hooks. All that is missing is the battery to have a complete 12V system, and an inverter/converter for a 230V solar kit. Waterproof (IP65) and weighing 7.5kg, it is a very good kit, expandable if necessary.