Cells & Rechargeable batteries
Discover our selection of the best in rechargeable batteries, batteries and accumulators in 2022.
There is a considerable choice of batteries, rechargeable batteries and rechargeable batteries on the market today. The technical needs required by the large number of electrical devices that exist, make batteries available in many variants, both in terms of formats (cylinder, square or button batteries), as well as power, capacity, voltage, dimensions or types (lithium, alkaline, salt, Ni-MH...). Some brands, such as Energizer or Duracell, which no longer need to be presented, serve as a reference, and some types of batteries are extremely popular and used worldwide.
We have therefore decided to present you in this category of our shop, a wide range of batteries, rechargeable or not, in different formats, choosing only the best models and brands, among the most common or sought-after types of batteries.
You will therefore find here the best in terms of batteries and rechargeable batteries in 2022.
I - AAA batteries
Ultra compact and commonly used in a large number of devices (remote controls, toys, lamps...), AAA / R03 / LR03 batteries (also called Micro batteries) are extremely practical and popular. We present here the batteries and accumulators in AAA format that we recommend.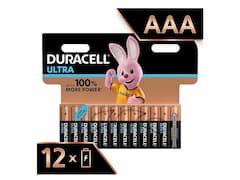 Duracell AAA (x12)
$9.77 (419)
Duracell brand Alkaline batteries are among the most widely used in the world. These, the Ultra Power AAA / R03 are equipped with a load tester Powerchek™ (by finger pressure) which allows to know its level. These 1.5V batteries are sold in packs of 12. Their energy can be conserved for up to 10 years, thanks to the Duralock™ technology. The pink rabbit brand offers here one of the best batteries in AAA format. You can buy with your eyes closed!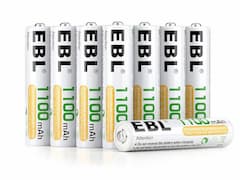 EBL Rechargeable AAA (x8)
$10.69 (1045)
These EBL brand AAA rechargeable batteries, sold by 8, have an impressive capacity for this format of 1100mAh. Able to keep 75% of their energy after 3 years of storage, these 1.2V Ni-Mh batteries can be charged 1200 times, they are waterproof, safe, and compatible with most devices (cameras, remote controls, PDAs, toothbrushes, etc.). Ecological and powerful, they are excellent LR03 batteries.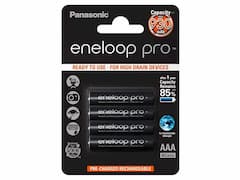 Eneloop Pro AAA (x4)
$14.99 (3298)
The batteries in the Eneloop Pro range are known for their exceptional quality and durability. With very high efficiency, these Ni-MH batteries are perfect for powering devices that require a lot of energy. Rechargeable over 500 cycles, these 1.2V AAA/LR06 format batteries have a guaranteed capacity of 930mAh, are directly usable and keep up to 85% of their capacity after one year of storage... Nothing to do with the other rechargeable batteries, the best!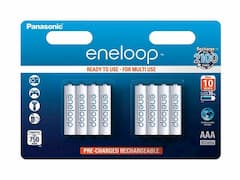 Panasonic Eneloop AAA (x8)
$16.69 (10613)
One of the most popular AAA batteries in the world! Eneloop AAA of the Japanese brand Panasonic, which can be recharged up to 2100 times, which is exceptional, have been designed to be as durable as possible. Already charged at purchase (via solar energy for eco-responsibility reasons), these batteries retain up to 70% of their capacity after 10 years of storage! This is why they are the first choice of survivalists, preppers and foresighted people, who like to have a lot of them in stock.
II - AA batteries
AA (or LR6) batteries are the most common batteries in the world, and their popularity is understandable, given their large capacity for a particularly compact and practical format. Here is our selection of batteries and accumulators in AA format (also called''Mignon'').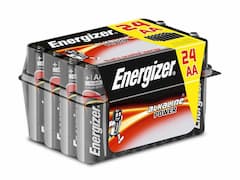 Energizer AA Batteries (x24)
$13.59 (2139)
Energizer is one of the world's best-known brands of batteries, as their products are both of high quality and quite economical. This is exactly the case with this set of 24 Alkaline Power batteries in AA / LR6 format, with a voltage of 1.5V, which can be used for 10 years. Their packaging by 24 is very compact (80x35x128 mm) which allows it to be stored in stock for long periods without losing space. Very good choice of non-rechargeable AA batteries, therefore.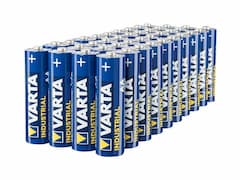 Varta AA Batteries (x24)
$23.49 (73)
Manufactured in Germany, Varta Industrial batteries are both reliable and worthy of the highest quality standards. Guaranteed as being storable for 10 years, and with an excellent price/quality ratio, these AA / LR6 Alkaline batteries have a nominal capacity of 2600mAh. These 1.5V batteries will be perfect to operate your devices (almost universal compatibility). And after buying a set of 40 units, you should be quiet for a long time :)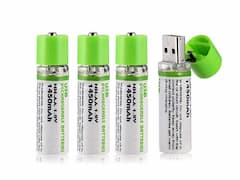 USB Rechargeable AA batteries
$19.93 (185)
The very intelligent concept of AA batteries charging by USB was invented several years ago by the British brand USBCell. Since then, many brands have taken up the idea and developed their own batteries. This is the case of Survival Frog, which offers its EasyPower AA batteries, whose head is retractable to reveal a USB plug that can be plugged into any device that offers this type of port. Equipped with a LED charge indicator, this rechargeable battery has an interesting capacity of 1450mAh. This simplicity to recharge it, as well as its good capacity and low discharge rate, make it an excellent battery for survival (the brand name leaves no doubt about their primary purpose in launching this product), as well as for anyone who wants to be able to recharge their LR6 batteries anywhere (even with a computer, a powerbank, etc.). It should be noted that although these batteries have been developed to be charged by USB, they are still compatible with standard Ni-MH battery chargers. Excellent then!
Eneloop Pro AA
$18.49 (3298)
We have already presented the LR03 (AAA) version of this battery, a few lines earlier on this page. The AA version we offer you here is even more popular in the world. For us, this is undoubtedly the best in rechargeable Ni-MH batteries of this format on the market. Panasonic has established its brand in the world of battery cells, and in its pro version, the AA battery in the Eneloop Pro range does not deserve to be.... Perfect for energy-intensive, durable and low-self-discharge devices, these high-end rechargeable batteries can be purchased with your eyes closed.
III - 18650 batteries
Popularized by electronic cigarettes and flashlights, 18650 batteries have made a name for themselves and become the reference format for powerful rechargeable batteries, as their size / capacity ratio is so excellent. Here are the best 18650 batteries on the market: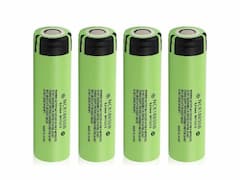 Panasonic NCR18650B 3400mAh
$23.28 (273)
The Panasonic NCR18650B also exists in a protected Button Top version, but we prefer the unprotected Flat Top version, which we offer here because it is compatible with more flashlights and devices, because it is more compact (precise dimensions: 65*18 mm).
Anyway, this battery is the reference in the small world of 18650 batteries. Of impeccable quality, reliable and super powerful, the NCR18650B has a nominal voltage of 3.6 to 3.7V, a maximum voltage of 4.2V and can be lowered, when completely discharged to 2.8V. It can be recharged 500 times, via a battery charger compatible with Lithium 3.7V batteries.

Caution, many Chinese counterfeits exist on the Web, so be careful when buying them online. The NCR18650Bs we offer here are 100% original. Unparalleled in terms of performance and durability, this cell is very often used as a base for other batteries, powerbanks or power stations. Excellent choice!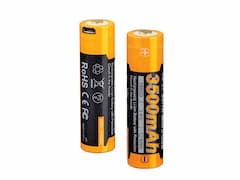 Fenix ARB-L18-3500U
(70)
Fenix, a brand famous for its ultra-powerful and high quality flashlights, has created an innovative battery of excellent quality. Indeed, it has a micro-USB port, which will allow you to charge it anywhere, thanks to a device with a USB plug (computer, phone charger, powerbank...).
Powerful, it has a capacity of 3500mAh, which makes it the ideal battery for powerful devices, such as torches (for which it was designed). It can be charged over 500 cycles, with a LED indicating the charge level, and has many protections (against short circuits, overheating, overcharging, deep discharge). All this makes it one of the most reliable and best protected batteries in the world.

Caution, this is at the expense of the total length of the battery, which is 70mm (for 18.6mm diameter), check before buying if your devices are compatible with a button battery slightly longer than the standards of this format.
IV - CR123A batteries
Long used in cameras, the CR123A battery has become very popular and now powers many devices and flashlights in particular. Called RCR123 if it is rechargeable, this battery, in the 16340 format, is durable and practical. Here is our choice of CR123: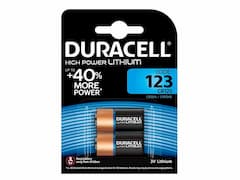 Duracell CR123 (x2)
$8.99 (3944)
Whether it is to power a flashlight, camera, range finder or any other device, CR123A batteries are very compact and known for their resistance to low temperatures. This disposable battery, from Duracell, is a 3V lithium battery, high performance and particularly durable (Duracell guarantees storage for up to 10 years, thanks to Duralock™ technology). Sold in pairs, in their packaging.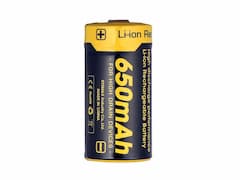 Nitecore NL166
(17)
Nitecore is known for its innovative lamps and high-performance battery chargers. With the NL166, the brand offers a rechargeable Lithium battery in the 16340 format. This RCR123 battery with a voltage of 3.7V and a capacity of 650mAh has several protections (short circuit, overheating...). Designed for devices that need a lot of power, such as the latest flashlights, the NL166 is an excellent rechargeable CR123!