Chargers & accessories
What would a shop dedicated to batteries be without a section offering battery chargers, among other accessories?
It is sometimes difficult to find your way around, as there are so many batteries for so many electronic or electrical devices. Whether it's smartphones or tablets, digital cameras or cameras, hand-held power tools or portable consoles, a quality battery can make a difference. We are pleased to present you on this section of our online store, a selection of spare batteries for your devices. All very qualitative, some are original batteries manufactured by the brand of the device in question, some are batteries of other brands that are compatible with your range of devices. Be sure to check the original numbers or models of your batteries if you choose to buy spare or replacement batteries, to be sure of the compatibility of the batteries.
These are the ones we have chosen for you, most of them are made for popular and sought-after devices. We will regularly update this category of our site to add other spare batteries or batteries that do not fit on other pages of our e-commerce.
I - AC chargers
A reliable, powerful and/or fast wall charger can make the difference when you need to charge your smartphone or power a USB-C powered device (e. g. some laptops, Nintendo Switch, etc.). This is the Top of the sector chargers.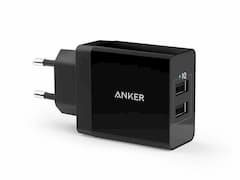 Anker USB Charger 24W
(3135)
Of excellent quality like all Anker brand devices, this USB mains charger has two USB ports of 5V⎓2.4A each. It is capable of delivering a maximum of 24W of power (i.e. 4A if both sockets are used to charge your USB device or smartphone). Using its intelligent PowerIQ and VoltageBoost technologies, it determines the optimal power to charge devices as efficiently and safely as possible (not compatible with Qualcomm Quick Charge 2.0 technology). With its universal input voltage ranging from 100V to 240V, this charger can be used outside Europe as well as in Europe. Excellent choice if you need a reliable and secure USB mains charger.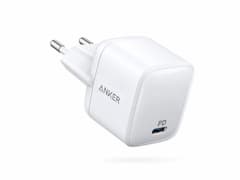 USB-C 30W Charger
$20.99 (351)
Able to charge any smartphone or power some USB-C laptops (MacBook, MacBook Air, MacBook Pro, ASUS ZenBook, Google Pixel Book, Spectre Pro...), this fast charger from Anker is compatible with Power Delivery (PD) technology up to 30W. Based on gallium nitride (GaN), which emits less heat than silicon, this wall charger can be more compact and safer. It is also compatible with iPad Pro and Nintendo Switch.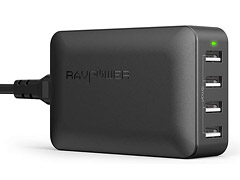 RAVPower 40W USB Charger
$17.99 (2102)
Designed for travel (110V-240V input), this 4-port USB charger 2.4A (8A max total), has a power of 40W. It is capable of charging 4 tablets or smartphones at the same time and is supplied with a detachable 1.2m cable. Its Anti-slippery base gives it the stability you need. Low cost and top quality!
II - Battery chargers
You don't need to have the best rechargeable batteries in the world if you don't have the device to charge them. There are many different ones, and we have decided to offer you the best ones, according to our own criteria of quality, durability and versatility.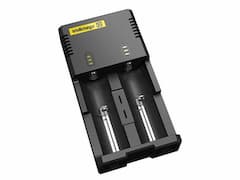 Nitecore IntelliCharger i2
$11.99 (992)
Nitecore is a brand specialized in flashlights. The IntelliCharger i2 is a battery charger capable of charging two rechargeable batteries, even of different types or voltages, at the same time. It is compatible with the following IMR/Li-ion lithium batteries: 26650, 22650, 18650, 18490, 18350, 17670, 17500, 14500, 10440 and 16340 (RCR123), and with the following Nickel (Ni-MH/Ni-Cd) batteries: AA, AAA, AAAA and D. An excellent charger, simple and durable.

Our review:
The Nitecore intelliCharger i2 is certainly not the newest or most sophisticated battery charger, but after testing more than 10 battery chargers of different brands and formats, it was selected by our team for its simplicity and durability. It is able to recharge the most common rechargeable battery formats without any problem. Extremely strong and durable (we have been using one almost daily in the office since 2014, and it still works without blinking, despite several falls). Protected against overheating and polarity reversal, it automatically stops when the battery is charged or after 10 hours of charging. It will charge the battery(s) you place in it to a maximum of 1A (1000mA for a single battery and 500mA each for two batteries). We also appreciate the fact that it can be powered via a cigarette lighter cable (not supplied), which makes it even more versatile.


In short, it has only small LEDs to display the charging progress, and not a state-of-the-art LCD display, it is rather rustic, but it is much better and less capricious than most chargers in the market.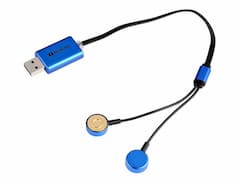 Olight UC Magnetic charger
$10.49 (89)
This minimalist battery charger was designed by Olight (specialising in flashlights and flashlights). Powered by USB, it is capable of charging a very large number of different batteries and accumulators, as long as they are Lithium or NiMH/NiCD type and cylindrical format, with an intensity of 750mA.Universal Charger) is able to charge:
Lithium technology: 10340, 10350, 10440, 10500, 12340, 12500, 12650, 13450, 13500, 13650, 14350, 14430, 14500, 14650, 16500, 16340 (RCR123A), 16650, 17350, 17500, 17650, 17670, 18350, 18490, 18500, 18650, 18700, 20700, 21700, 22500, 22650, 25500, 26500, 26650.
NiMH/NiCD technology: AA, AAA, AAA, C, D, AAAA.


In a Y-shape, it has on one side a USB plug, and on the other side, 2 magnetic tips that can be fixed on both poles of your battery with two magnets. A LED indicates whether charging is in progress (red) or completed (green). Reliable, practical and very innovative, an ideal charger for those who need versatility.

Our review:
Since the launch of this small battery charger, several brands have launched a magnetic charger of similar design. We had the opportunity to test 4 others, and none of them is as good and versatile as Olight's. Nothing beats the original, then. Capable of charging almost all cylindrical batteries, this intelligent charger detects the battery technology and charges it accordingly. Basically, it is capable of charging any lithium cylindrical battery with a voltage of 3.6V/3.7V and any NiMh cylindrical battery with a voltage of 1.2V/1.5V. Almost impossible to do more versatile than this tiny device, which will find its place everywhere with its light weight of 20.5g, for example in an EDC kit or a Bug Out Bag. One of the best chargers on the market, and one of the favourites of the Best Batteries team!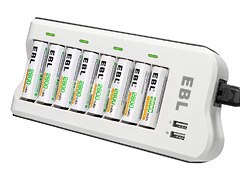 EBL 8 Bay charger
$12.99 (136)
This 8 slot charger can charge 8 AA rechargeable batteries simultaneously. It is also compatible with AAA batteries (Ni-MH or Ni-CD), and has two additional USB ports (one 5V/2.1A and the second 5V/1.0A, 4.0A max in total) to power your devices, which is very convenient.
III - Battery testers
We can have the best batteries in the world, they will be useless if they are empty or almost empty. It is not always easy to know the level of a battery, and that is where the utility of a battery tester comes into play. This simple device gives you the level of your battery at a glance.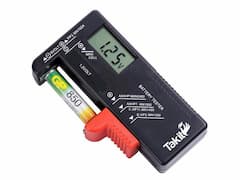 Battery tester
$6.99 (446)
Particularly easy to use, this device, from the French brand Takit, allows you to test the battery level of the most common batteries. Compatible with many formats, this digital tester can test 1.5V AA (LR6), AAA (LR03), C (LR14) and D (LR20) type batteries, as well as 9V PP3 batteries, and button batteries (such as LR44 for example). It tests the battery with its adjustable slider and displays the voltage of the tested battery on its digital display.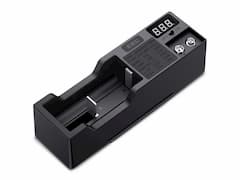 EBL Universal battery tester
$9.99 (56)
Particularly versatile, this universal tester from the EBL brand is able to test the battery level of the vast majority of batteries, regardless of their size or technology. In particular rechargeable Ni-Mh batteries, in AA, AAA, C and D format, Lithium-Ion batteries in 18650, 16340 / RCR123A, 14500 (AA format in 3.6V), 18500 or 10440, Alkaline batteries in AA, AAA, C and D format, as well as 9V batteries (Ni-Mh 9V, Lithium 9V or Alcaline).
IV - Adapters & converters
It is sometimes interesting to be able to switch from one voltage to another, or from one end to another, for your devices. In this sub-category of our site, we present you with voltage adapters and converters, among the most practical and best practices.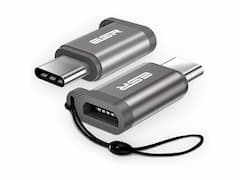 ESR USB-C Adapter
$4.99 (108)
What is more annoying than having an empty power bank, cable and smartphone, but not the ability to recharge it, as it requires a USB-C tip, while you only have a cable ending with a USB microphone. It's also painful to have to walk around with two cables, as your external battery requires a micro-USB tip. The easiest solution is to choose a micro USB to USB-C adapter like this one, offered by ESR, with its practical elastic band to attach it to your cable without losing it. This adapter is also OTG compatible (On the Go), which ensures that your phone and USB stick can be connected and data transfer is possible (up to 480Mbps speed). Simple but essential.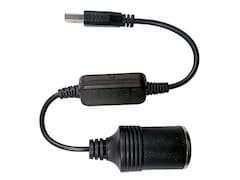 USB to 12V converter
$7.88 (56)
Many devices operating on a cigarette lighter socket are of low power and would not, theoretically, need as much power to operate...
Thus, some electric coolers, some lamps (such as the Goal Zero Light-a-Life 350 for example), some car compressors, etc.., if they require only a small amount of power (written in watts on your device, its power supply or notice) to operate, can be powered via a simple powerbank with this USB->12V converter, which is very convenient. Check the power of your equipment before connecting it to an external USB battery or wall outlet, it's important!
V - Cables
It's nice to have the best external battery, the fastest wall charger in the world or the top power stations, but if between them and your device (Smartphone or other), you don't have a good cable, it's useless. However, the quality and type of cable are essential.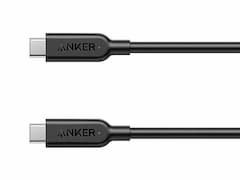 Powerline II PD Cable
$19.99 (170)
Compatible with Apple MacBook, Huawei Matebook, iPad Pro 2018, Chromebook, or Nintendo Switch, among others, this Anker cable is designed to power high speed, Power Delivery (PD) compatible devices. The cable is capable of managing up to 100 Watts of power and in the second generation C 3.1 type, it manages data transfers up to 10 Gbit per second (Ultra HD and 4K compatible)! Guaranteed for life, this fast cable benefits from Anker quality.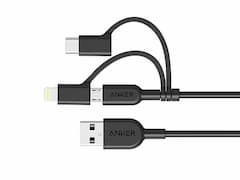 Anker 3-in-1 Cable
$17.99 (376)
If you have to choose a high quality and fast cable, you may as well choose one that is versatile. With its 3 different connectors (Lightning for Apple devices, Micro USB and USB type C for Android devices and most devices), Anker's 3-in-1 Powerline cable is one of the most versatile on the market. With its Apple MFi certification and lifetime warranty, you can choose it by closing your eyes, Anker quality is there.
VI - Related questions
The key to choosing a battery charger is to make sure it is compatible with the rechargeable battery formats you have. Most chargers can charge the current formats (AA and AAA), but if you want to charge C, D, 9V, 18650 or RCR123 batteries, make sure that the charger you choose supports these formats. Then, choose the number of slots available, to know how many batteries you can charge at the same time. Good choice.
Most smartphones come with a USB wall charger, but these are not always of good quality. To choose a mains charger, first ask yourself how many sockets (ports) you need. Do you want to charge one, two or more devices? If your phone is compatible with fast charging (Power Delivery or QC), ask yourself if you want to be able to charge your devices very quickly. Then choose, depending on the answer to these two questions.