Power stations & Generators
In this section of our online shop, you will find a selection of the best power banks in 2022.
All smartphones on the market and a large number of electronic devices can be charged (or powered) via a USB port, regardless of its type (USB, USB-C, micro USB...). This universal loading method has proven its worth since its creation, particularly in terms of reliability and convenience. However, the more recent mobile devices, whether laptops, tablets, handheld consoles or Go Pro for example, are, the more powerful and energy consuming they are, which strongly affects their autonomy. This is where, when you've moved away from a wall outlet, the utility of an external battery, also known as Power Bank, makes sense. These mobile batteries, from the most compact to the most powerful, allow you to recharge one or more devices on the go, which is perfect for many everyday uses, or when travelling. Powerbanks exist in many variants, in terms of dimensions, functions or power.
Let us present you our selection of external batteries, among the widest possible choice, in these different variants.
I - Compact power stations
You need power, but you want to keep the ability to use your devices on the go? There are a number of excellent small energy stations. Here are the best of them, according to our criteria…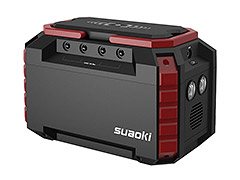 Suaoki S270
$125.99 (562)
If you are looking for a mobile battery powerful enough to power devices running on cigarette lighter plugs or low-power devices powered by 220V, the Suaoki S270 is certainly the best in its class... With 9 outputs (4 USB ports, including a QC 3.0, 4 12V ports and 1 110V/220V port), its integrated MPPT solar controller, its lamp and retractable handles, the S270 is the top of the range in portable power station.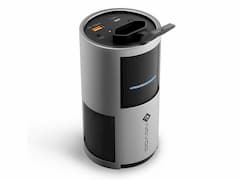 NOVOO 81Wh
$81.99 (62)
With a particularly ingenious format that brings the dimensions of this small power station closer to those of a can, you can take it almost anywhere, including on a trip, and even by plane, since this power station does not exceed the 100Wh limit.
With its two USB ports (1 standard and 1 USB-C 18W fast port) and its 220 volt AC plug (85W), this device will quickly become the partner of all your nomadic adventures.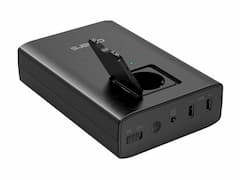 Omars Battery 40200mAh
$99.00 (11)
Extremely compact, lightweight and portable knowing its high power and capacity, this small Omars power station will prove particularly practical, with its 2 USB ports (5V/2.4A) that can be used simultaneously, and its protected mains socket (220-230V/ 90W), when you are far from civilization and you need to connect your USB devices and 110V devices that require little energy.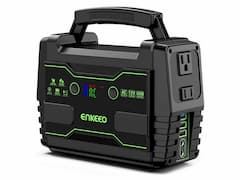 ENKEEO S155
$109.99 (154)
Its very practical and compact size will allow you to take it with you wherever you need it. Indeed, this small power station will be able to power your 12V or 110V devices, with a power of up to 155 watts, as well as your USB devices (2 standard ports + 1 fast port). Designed for mobile use with its retractable carrying handle and the possibility of charging it via a solar panel, the Enkeeo S155 is an excellent choice for a very reasonable price, if you need electricity when camping for example.
II - Powerful power stations
Whether in a camping, a motorhome or at home in the event of a power failure, there are solutions to supply your electrical appliances silently and without pollution. Discover our selection of the best high-capacity energy stations.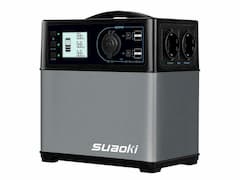 Suaoki PS5B 400Wh
$339.99 (107)
When a compact battery is not enough in terms of power and you need to supply more energy-intensive devices, you have to choose the right energy station. This model, proposed by Suaoki, is particularly powerful, while remaining transportable. With its 400Wh capacity, its 4 USB ports, its cigarette lighter socket, its 2 230V pure sine wall sockets, and its''Jump Starter'' mode, allowing to boost a car battery, the PS5B is an excellent choice.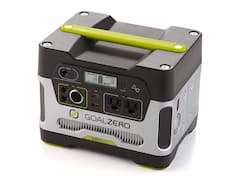 Goal Zero Yeti 400
$449.95 (409)
The British brand Goal Zero has hit hard again with the 400 version of its famous Yeti energy station. Of impeccable quality, like all the brand's products, this 39.6Ah battery has 3 12-volt ports (including a cigarette lighter socket), two switchable USB ports and two 110V pure sine plugs, as well as an LCD screen. Enough to power your peripherals and devices, and no longer fear power cuts!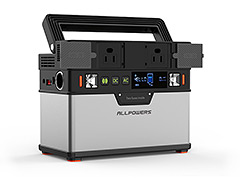 Allpowers 372Wh
$299.00 (15)
The AP-SS-005 energy station from Allpowers is one of the latest innovations offered by the brand. Financed through crowdfunding, this battery is particularly well designed and is a jewel of technology. It will allow you to charge your IQ compatible smartphone (wireless) and charge your devices through its two pure 230V sinus ports.
Disposing 3 USB 5V-3A ports, a 60W Type-C port and a 12V port, this 372Wh battery pack is controllable via a dedicated application, and its digital display offers a number of important information. The future is on the move!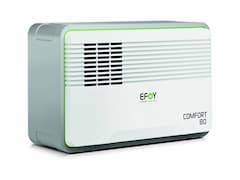 EFOY Comfort 80i
(13)
The Efoy Comfort 80i fuel cell is powered by a methanol cartridge (part number M12). Ultra quiet and ecological, because it only releases water vapour, it is the ideal solution when you are in a motorhome or boat, because it can supply any device with 12V power by producing up to 80Ah per day. If you need to produce energy for more than 60 days.
III - Multifunction power stations
Some generators or power stations have additional functions, in addition to being able to supply your devices with 12V or 220V, such as the air compressor function for example. Let us show you the best of these versatile devices.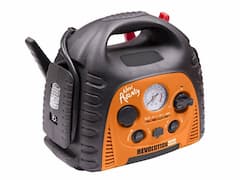 New Avanty 300W
(29)
Manufactured by the French brand Mecafer, this very versatile device can be very practical for any vehicle owner. In addition to being able to power any device running on 230V or USB, the New Avanty is also an air compressor (low power), delivered with several tips to match different types of tires (bike, car...), and also a Jump Starter (car battery booster) with its integrated crocodile clips.

Our review:
Our team of testers and specialists had the opportunity, over several months, to test two copies of the New Avanty 300W, which was one of the first energy stations we were given to test. Although the device seems to disappoint a number of Internet users, from what we have seen on the online comments and reviews, especially because of its slow recharging time and very low power as an air compressor, we have been rather satisfied with this small, very compact and well designed device. After torture-tests where we pushed the two devices into their trenches to see their level of quality and durability, one of the two specimens underwent more than enough, and the gauge on its pressure meter no longer works. For the rest, both devices continue to deliver enough energy to power devices running on 230V (300 watts max), or 5V (USB), continue in their compressor function (very slow on the other hand, and a little noisy, 12 bar max), their ability to boost a slightly tired car battery (with the crocodile clips included and its 400 amps !) or the torch lamp. The assembly quality is good, the materials used are good, and the whole thing is well thought out, with the crocodile clips pinching onto the unit and the compressor hose being stored in a housing with the adapter tips. Powerful and practical, especially considering the price, we consider it a good purchase, but feel free to read the negative opinions of the different online users to make you an opinion in case...
IV - Portable generators
Energy stations are not generators, they can only accumulate electricity to restore it. When the energy needs are greater, a generator can be the solution. Here is our selection of the best portable generators.
Honda EU10i generator
$859.00 (44)
Ideal for caravaning, boat or camper van, Honda's EU10i generator set is one of the most popular on the market. It owes its popularity to its compactness, its inverter technology that makes it compatible with sensitive equipment, and the fact that it is very quiet (only 87dB). Like the EU20i or EU22i (more powerful), it is particularly reliable and well designed, making it a must for those looking for a portable generator.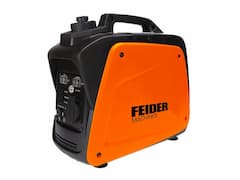 Feider FG900IS generator
(6)
Feider, a well-known French brand, proposes with this model, a very efficient, compact and discreet soundproofed gasoline generator set... With a nominal power of 700W, a 2.1-litre tank giving it an autonolie of more than 4 hours, this generator with Inverter technology and its OHC 4-stroke engine with 40cm3 displacement (starting with launcher), are an excellent choice for those looking for a very compact unit for mobile use.
V - Generators
If you need more electrical power, and the nomadic side of such equipment is not one of your top priorities, you will need to choose a powerful generator. Let us offer you the best generators in 2022…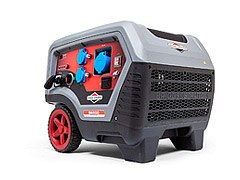 Briggs & Stratton Q6500
$1,171.11 (12)
With its 306cc engine displacement, the Briggs & Stratton Q6500 generator set is a particularly powerful generator set with 5000W (6500W at peak). It has 4 120V-20A sockets, 2 USB sockets and one 120V-240V locking outlet. This generator set can be moved thanks to its wheels, and it is extremely quiet (66 dBA at 25% load).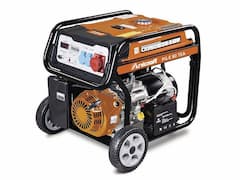 Unicraft PG-E80TEA
(13)
Need for a reliable and powerful gasoline generator set ?
Unicraft, known for its innovative products, offers the PG-E80TEA model and its 7000W of power. With its 25L tank, it has an autonomy of 13 hours at half power. Protected against shocks and overload, this generator has two 230V sockets plus a 3x400V socket (5 pins in 380V / 6.5 kW continuous). With its wheels and retractable handle, it remains movable despite its 88kg.
VI - Related questions
The battery capacity is the amount of energy that it is able to release after a full charge. It is normally expressed in Wh. Manufacturers most often indicate the voltage and amperage of the battery. To obtain the data in Wh, simply multiply the voltage by the amperage. A Wh is the energy delivered by a system with a power of 1 Watt for one hour.
Before choosing a generator set, you need to ask yourself the right questions. Is your need planned for occasional or intensive use? What equipment do you want to supply, to determine the required power (in Watt)? Should you choose an AVR or Inverter capacitor control? Which fuel do you prefer? And finally, what budget do you have? Then you can choose.
The operation of a generator set is based on two main components, the generator and the internal combustion engine. The internal combustion engine, which uses petrol, diesel or LPG as energy, causes a rotary movement of the generator drive shaft or belt (alternator or dynamo), which in turn produces electrical current.